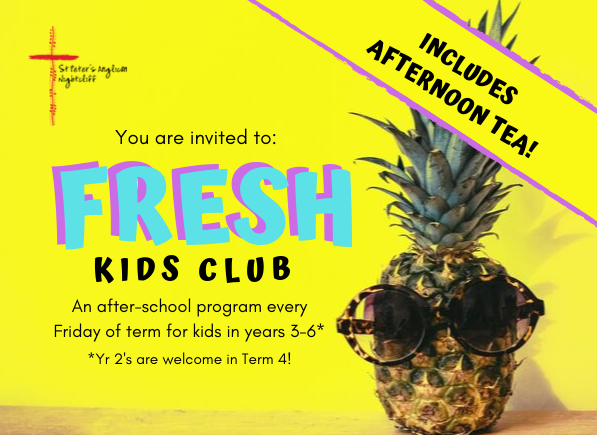 FRESH Term 2, 2021 is starting Friday 30th April.

In line with our Covid plan:
1. We will provide 2 individually wrapped biscuits or 1 packet of chips to each child at the beginning of FRESH. This is instead of the shared packets of biscuits in the past.

2. We ask that each child brings their own water bottle to FRESH, as we will no longer provide a cooler and cups. There will be an opportunity to refill bottles. 

3. We will be together for our talk time in the main church space, and for food which will be eaten outside. There will no longer be shared fruit platters, but there will be an option to choose some fruit at the servery along with savoury afternoon tea. 

4. The group will split roughly in half for games and craft. Games will take place either in the large church space or outside. We will endeavour to choose games mindfully. Craft will take place in the open 'Hart Room' which is where the majority of FRESH used to happen. There will be less crowding around tables, and the tables will be set further apart. 

5. Rather than each parent or guardian signing their child in, Beth will sign each child in upon sighting their parent or guardian. We ask that you walk your child to the gate, and pick them up again from the gate. You can of course come onto church grounds if necessary. 

6. Please do not send your child to FRESH if they are unwell. Please be aware we will ask you to pick them up if they are unwell, for their safety and the safety of other children and leaders. 

You can register at this link or if you have already registered for FRESH last term you can go straight to the payment page by following this link.

We are looking forward to spending time in God's word together, learning more about Jesus.