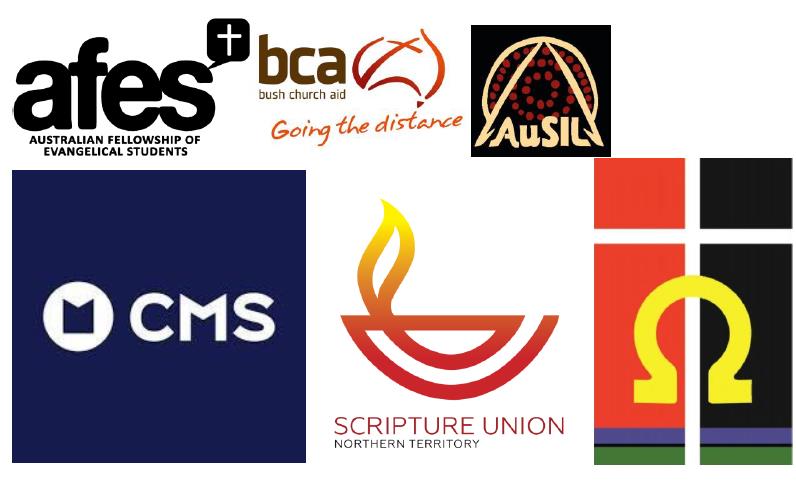 Jesus came to save all people in the world. At St Peter's we are convinced that the good news about Jesus matters for everyone. So we send everyone to serve in word and action. This includes supporting others who have gone out to proclaim Jesus' love, teaching, life, death and resurrection to those who don't trust Jesus as their Lord and Saviour. St Peter's also partners with a variety of ministry organisations in Australia and around the world. We support our ministry partners financially, through our prayers and other practical means.
Below are some details about our ministry partners.
Australian Fellowship of Evangelical Students (AFES)
The Jenner Family
in Darwin
CDU Christians at Charles Darwin University
part of the AFES – Australian Fellowship of Evangelical Students
Tony and Rachel came to Darwin to begin a full time ministry at Charles Darwin University with the Australian Fellowship of Evangelical Students. CDU has around 3000 full time students that primarily come from the Northern Territory. CDU also has 680 international students from over 55 countries. It is a great opportunity to proclaim Christ to local Territorians and the world at our door step. Tony is chaplain at the Uni and sees his role as working alongside the churches to train, encourage and build up a generation of students to love, honour and serve the Lord Jesus. In God's grace we pray that many students will submit to Jesus as Lord during their time at CDU and go on to serve him with their lives in Darwin, NT, Australia and beyond. They have three active and delightful boys, Jadon, Tobias and Brandon, and a daughter Althea.
AUSIL – Australian Society for Indigenous Languages
The Australian Society for Indigenous Languages (AuSIL) is committed to serving indigenous language communities in Australia and the Timor region by means of linguistic research and documentation, translation, training, and the development of language resources. Our work began in Australia in 1961 and expanded to include languages communities in the Timor region in 2002. We are a not-for-profit organisation registered under the Associations Act in the Northern Territory, Australia.
Bush Church Aid (BCA)
Jim and Natalie Watson, with Jesse, Matthew, Luke and Isabel
Jim and Natalie and their family moved to Darwin in October 2017. Jim took up the position as Property Manager at Nungalinya College in October 2017. The Watsons have a heart for ministry to Indigenous people and look forward to continuing that in this new role.
The Watsons previously served for 13 years as BCA Co-Workers in Kununurra, Western Australia. Jim worked two days a week at the local school among at-risk students and three days teaching construction at the local TAFE. He shared his faith and had a pastoral role in the lives of many young adults in Kununurra.
Topher Hallyburton and Chica Lorrain, with Daniel and Laura
Christopher and Maria Loreto, or Topher and Chica, moved to Darwin from Sydney in January 2017 after Topher completed a Bachelor of Divinity at Moore College.
Both grew up in Chile where they were actively involved in youth ministry in their local churches. Topher is a teacher, who in Chile taught Christian Studies and music to upper primary and middle school students. They would like to be involved in school ministry for the long run to bring the good news of Jesus to people in their early years.
They pray that through Topher's role and the ministry of hospitality, they can reach more children and their families with the gospel.
Church Missionary Society (CMS)
Wim and Maaike Prins and their children Tobias and Esther
The Prins live and serve in Cambodia. Wim works with Fount of Wisdom, checking Christian resources for publication in Khmer. He also trains pastors in faithful biblical preaching and evangelises Buddhist monks. Maaike teaches at HOPE International School, supporting missionary families through education and discipleship.
Nungalinya College
Nungalinya College is a Combined Churches Training College for Indigenous Australians. The College is situated in Casuarina, a northern suburb of Darwin, Australia's gateway city of the North.
'Nungalinya' is an Aboriginal word used by the local Larrakia people, whose land includes the Darwin area. The word refers to Old Man Rock, a reef lying off Casuarina Beach, which can be seen at low tide, that was a place of learning for the young men. The Larrakia people themselves suggested that the College use that name reflecting its identity as a place of learning and also the biblical idea of the "rock" of Christ as the foundation for our lives.
We acknowledge the traditional ownership of the Larrakia people over the land on which our campus is built.
At Nungalinya College we train men and women for leadership roles in churches and communities, and in exploring the Bible and Christian faith contextually. We train family members to make sense of the wider community and to learn its ways, so as to participate healthily in holistic community life while celebrating and strengthening Indigenous identity.
Scripture Union Northern Territory (SU NT)
SUNT – Scripture Union Northern Territory is a movement of volunteers from a wide variety of churches who are committed to working with children, young people and families.
Programs give participants positive experiences and help them learn and grow together. Within each program, people have the opportunity to hear about the Christian faith in a non pressured environment so they can make their own decisions in relation to faith and beliefs.
Scripture Union is a not-for-profit organisation whose major source of income is from individuals and churches who see value in SU ministries.